The drive between Calgary and Edmonton can be pretty and also pretty monotonous, and it's not often I decide to go off the highway. Opportunity leant itself for a "side" road trip when driving from Calgary a few weeks ago. Deanne and I decided that we were on a road trip we were going to make the most of it. We left Calgary and headed up the Cowboy Trail for a perfect little side trip.
The Vehicle
First we need to talk about the car we drove. Ford Canada graciously handed over the keys to an 2018 EcoSport for the 24 hours we were gone. Honestly, there is nothing like driving a new car, especially one that was so comfortable to ride, and was kid free (no fishy crackers!). It took a while to get used to driving a vehicle smaller than my usual ride (a mini-van) but the EcoSport still held all of our bags, and backpacks with room to spare. I have to say my favourite part of driving this vehicle was the 8-inch touch screen. I like to geek out at tech… like a lot, and I didn't think I'd get super excited about a touch screen in a car, but I did. The touchscreen is perfect size for navigation, the map was nice and large on the screen and I didn't have to pull over to have a look at what Range Road we were at.
The other great feature of this vehicle is the Sync 3. The Sync 3 connected with my phone really quickly so I could play Deanne my sweet sweet tunes, she was SO thrilled. Actually she was thrilled because she is a  fan of Les Miserable and knows I have impectible taste in music.  The vehicle also came with satellite radio so it was 90's on 9 once we had established that music wise, we were on the same page.
Village of Cremona
Our "side" road trip started north onto highway 22 to the village of Cremona where we stopped in at the Railway Cafe nestled in an antique store. The food wasn't fancy but was exactly what we needed. There were a lot of people that had been camping in the store that morning, and upon returning home we did a quick Google search to find that there are many campsites around the Cremona area.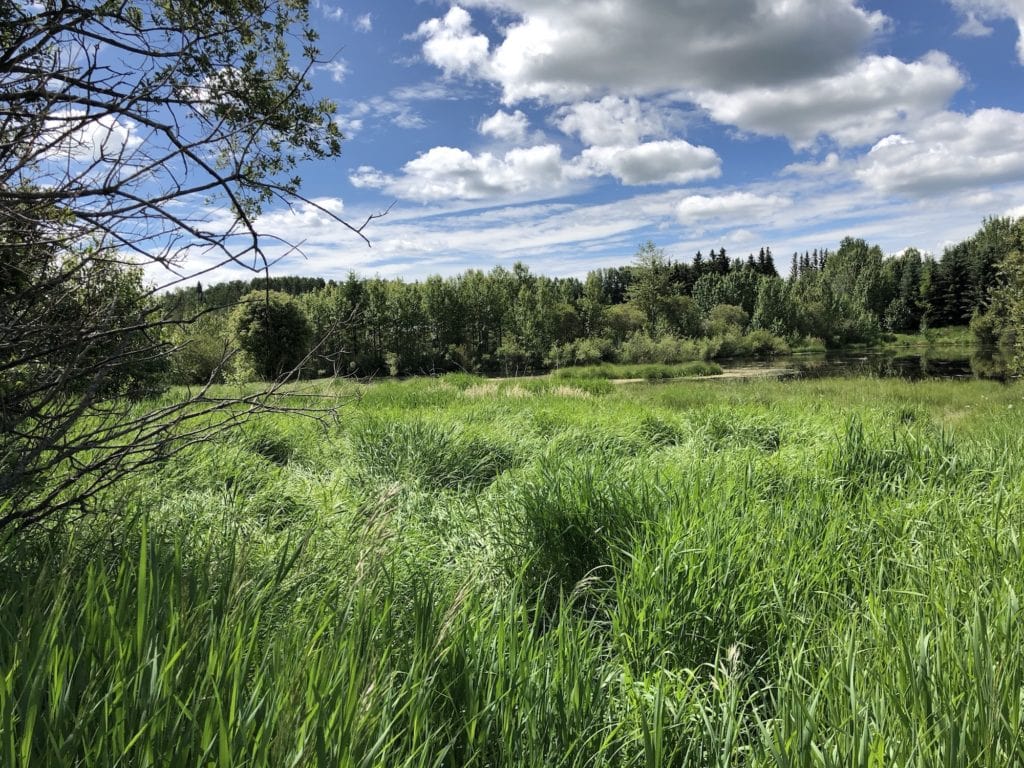 After our lunch we had a quick walk around the Cremona Nature Trail and then headed back up north on highway 22. We figured we were going to go straight back to the QEII when we notice a sign that said "Meadery" and naturally we made a left hand turn and headed to Water Valley, Alberta, home of Fallen Timber Meadery. Is it a road trip if you don't make unexpected stops to a meadery?
Fallen Timber Meadery
Turns out that we were the last people on the planet that had never heard of Fallen Timber. We were completely blown away by the meadery and how large and, also insanely tasty the mead was. Deanne and I decided on a tasting and a tour which lasted approximately an hour and a half. It could be done quicker, but we talk too much, and had too much fun. Tours cost $15 if you include a tasting, and it also includes a branded glass for you to take home.
The tasting and tour takes you through the process of making the mead from collecting the honey from their own apiary to the brewing in their newly constructed brewery.
Let me tell you, I knew absolutely zip about mead prior to this tour. I'm now a convert. Fallen Timber created a drink called the Meadjito and it's the ultimate summer drink made with meade (because, obviously) but also fresh mint (grown locally) and citrus blends. Is is incredibly refreshing without being too sweet.
If citrus/minty drinks aren't your thing, there's also the ultimate Prairie version of meade with the Saskatoon Meade made with Saskatoon berries. It couldn't get more local that this Meade.
If you're not in the Water Valley region, we hear Fallen Timber Meade is sold in select liquor stores and at the Cochrane Farmers Market.
Once we had filled the EcoSport with enough Meadjito's to sit by the fire for at least a month. If you're counting the EcoSport was now filled with: two suitcases, two computer bags/backpacks, random road trip things, and now two boxes of mead, it fit way more than I expected.  We headed home with the "90's on 9" as the soundtrack as we headed north keeping our eyes peeled for our next side-road-trip ideas.
Other posts you may be interested in:
Be sure to check out some of our other posts!
*Disclaimer* This post was not sponsored by Fallen Timber, we happened upon this little spot on our own. We recevied the Ford EcoSport to test drive and all of the opinions in this article are our own.