It's hard to pick the perfect potluck dish. You want something easy to prep, a dish that will feed a crowd, and something that's easy to transport.
Don't worry Mamas, we've got you! We've partnered with Alberta Turkey and have created the perfect pot luck dish: Turkey Buffalo Mac n Cheese. And the best part? EVERYTHING was made in an Instant Pot because we know you have zero time this time of year. By using the Instant Pot we've also cut out on all the dishes you have to do. This is literally a one pot meal!
You can use leftover turkey for this meal cutting out some prep time but we cooked everything from start to finish in about an hour. We didn't have time to cook a full turkey so we used individual turkey breasts. We chose to use turkey breasts because it cooks fast, gives you a ton of turkey flavour in the mac n cheese, and the best part? It is a very economical cut of meat. Christmas is expensive enough, your food shouldn't be!
Turkey Breast In an Instant Pot
Prep Time: 5 minutes
Cook Time: Aprox 5 minutes per pound of turkey
Ingredients:
2 Turkey Breasts (bone in or out)
1 Tablespoons of Butter
Assorted Herbs like sage, savory, thyme & rosemary
2 cups Chicken Stock
Garlic Plus club house seasoning
Step 1 – Pat turkey breasts with a paper towel to remove any moisture.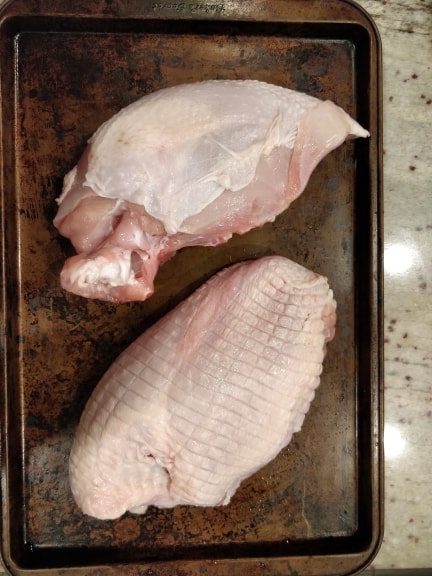 Step 2 – Rub butter on the turkey breasts getting under the skin too.
Step 3 – Stuff herbs under the skin to completely infuse the flavour. We used the poultry mix that had rosemary, thyme, and sage.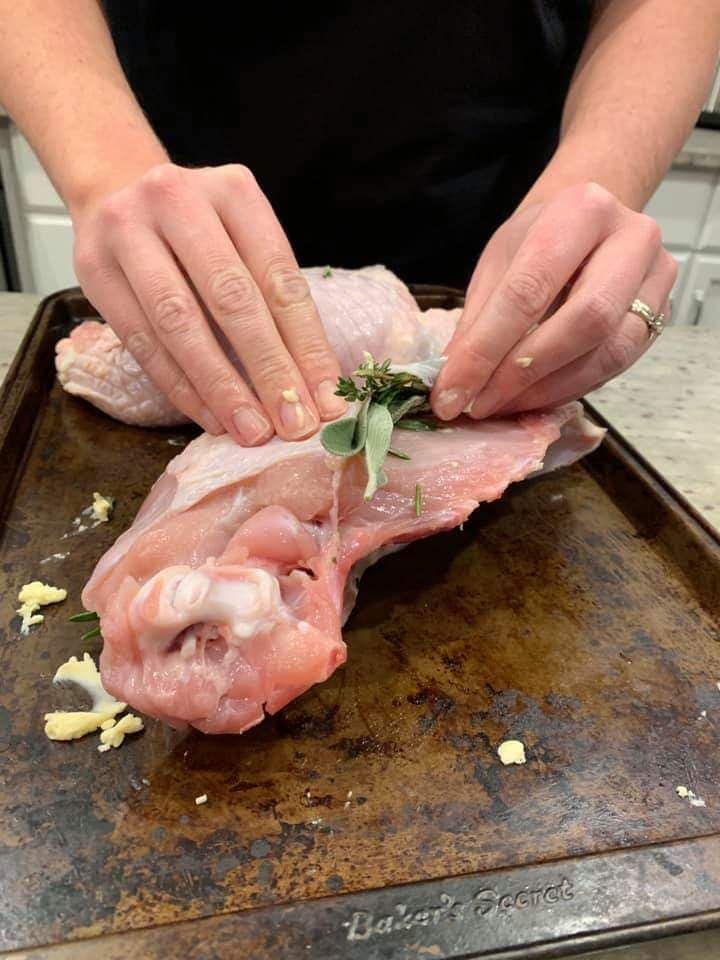 Step 4 – Put two cups of stock into the Instant Pot and place turkey on top. We used the canning rack that came with the Instant Pot to keep the turkey off the bottom of the pot and make it easy to remove once cooked. This also cooks it more evenly. Shake on about a tablespoon of garlic spices, we like Garlic Plus from Costco.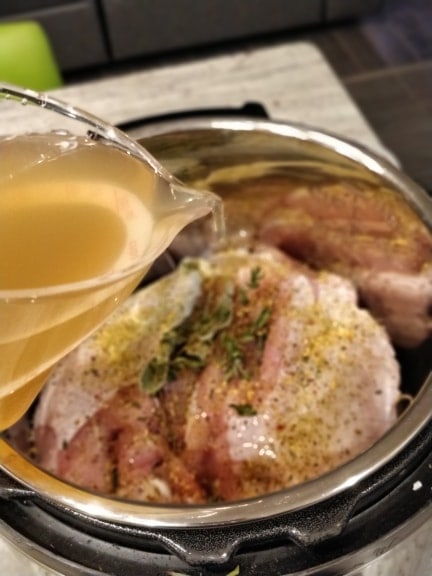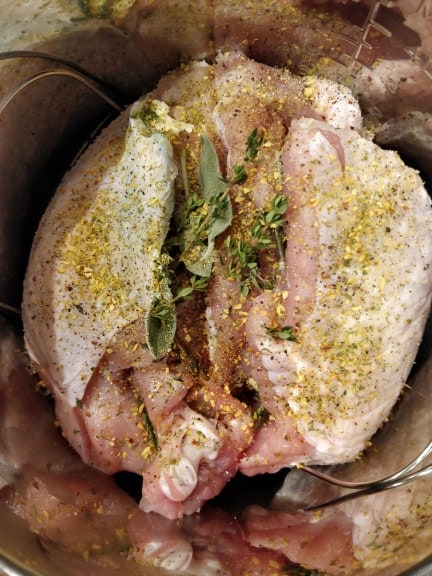 Step 5 – Turn the Instant Pot to manual high pressure and set time for 5 minutes per pound of turkey you are cooking. Once the time is up use the 10 minute natural pressure release. This really locks in the moisture to create a perfectly cooked turkey breast.
Step 6 – Take out the turkey and let it rest after about 10 minutes, covering with tented foil.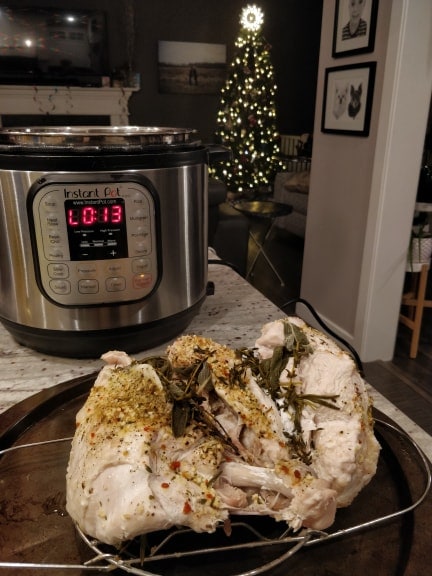 Instant Pot Turkey Buffalo Mac n Cheese
Prep: 5 minutes
Cook: 5 minutes on manual quick release
Serves: 6 if using as a family meal 10-12 as a potluck side dish
Ingredients:
2 garlic cloves
1/4 cup diced onions
2 1/4 cups chicken stock
2 tsp Epicure ranch spice
pat of butter
3 cups dry pasta
2 cups shredded cheddar cheese
1 cup shredded mozzarella cheese
1/4 cup cream cheese, cubed
1-2 tablespoons Sriracha
1-2  tsp hot sauce
2 cups chopped cooked turkey
green onion for garnish
Step 1 – Saute onions and garlic together in the Instant Pot with butter. You don't have to do this step but we found that it really adds fantastic flavour. All you do is push the saute button!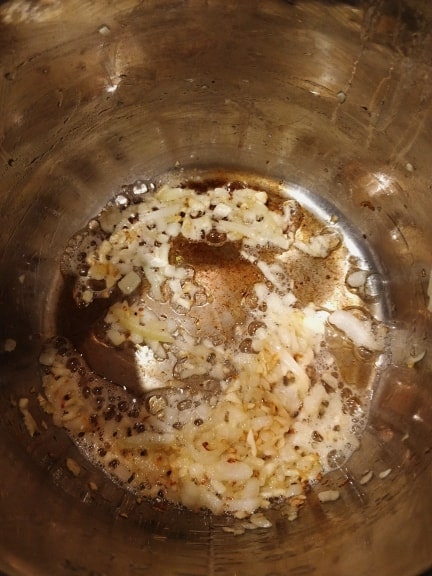 Step 2 – Once the onions get translucent add chicken stock, pasta and Epicure ranch spice. Mix together.
Step 3 – Set Instant Pot to manual high pressure for 5 minutes.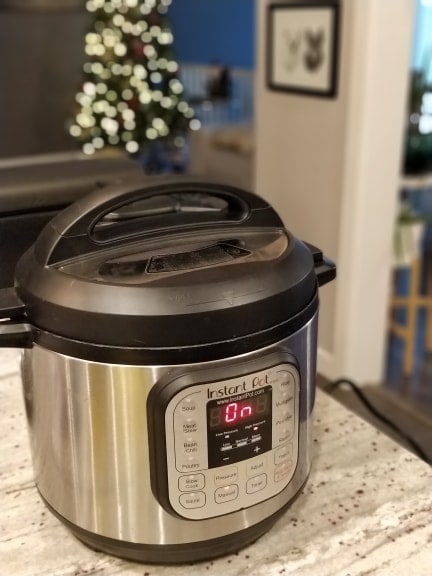 Step 4 – Release the pressure manually when time is up. Be careful of the stream! Add all the cheeses and mix together thoroughly until it is all melted in. Do not add turkey yet! You want to get chunks of delicious turkey throughout the mac n cheese and if you add it too early it will pull apart and get mixed in too well.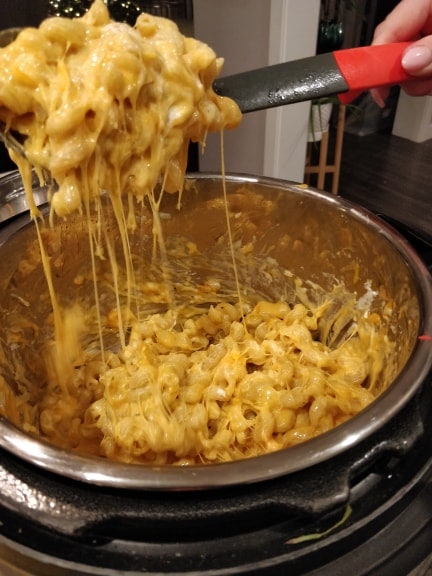 Step 5 – Once the cheese is all melted  add the sriracha and hot sauce. If you are going to a potluck we recommend doing only a bit in case people aren't a fan of spicy food. Bring some hot sauce to put beside the dish for people to add more if they like it spicy.
Step 6 – Lightly fold in chopped turkey.
Step 7 – Pour into a bowl and sprinkle green onions on-top for a garnish.
Not only is the perfect potluck dish for the holidays, but it is also a great way to use up turkey leftovers after Christmas so save this recipe for later too!
Want more reasons to think turkey this holiday season? We have 7 more reasons to use turkey for your next meal!
7 Great Tips to Think Turkey and Entertain-at-Home Like A Pro
1. Plan on serving dishes that can be made in advance. Crowd-pleasing favourites like casseroles, pastas and stews featuring turkey can be made ahead of time and just re-heated gently to serve.
2. Help your guests avoid the dreaded 'crash' that follows a heavy meal and think about serving lighter fare. Turkey makes a great feature meal, feeding a crowd with big flavor, while being a leaner, lighter choice.
3. Consider building your party around a series of appetizers like the turkey meatball recipe we made last week (recipe HERE). There are many recipes that can be made ahead of time. Finger foods also mean using less dishes and cutlery, saving time when it comes to clean up.
4. Experiment with something other than a formal sit down. A buffet style meal encourages grazing throughout the night, mingling while guests eat and chat, and allows for a more social and relaxed feel. Choose foods that taste great at room temperature, like a stuffed turkey breast or turkey casserole.
5. Get your guests in on the action by hosting a potluck. You provide the crowd pleasing main dish, like a whole roasted turkey, and then have your guests bring a selection of appetizers, salads and desserts. Guests love to contribute and this will take some of the heat off of you.
6. Turkey makes a fantastic substitute in any of your favourite party dishes. Think about ground turkey, turkey breast or turkey sausage in any of your go-to appetizers or mains.
7. Use your crock-pot to help you make a crowd-pleasing dish ahead of time. The Alberta Turkey website is filled with crock-pot and make-ahead inspiration. And just like the Instant Pot dish we made above, there will be minimal dishes because you're making everything in one pot!
The above recipe was created in partnership with Alberta Turkey. To find more recipes and ideas check out their website: ab.canadianturkey.ca