By Kathryn Wright
I recently gave blood for the first time in a decade, I was prompted by a friend who was in treatment for Leukemia and when asked what I could do to help was asked to give blood. I took my 4-year old son and it was actually a really fun experience for us to have together, the staff loved him and gave him an honorary volunteer vest.
There has been a bit of a shortage of blood lately and I hope I can help demystify the experience and encourage other mamas to get out there and do it! To put it simply – giving blood is weird and a little gross, but it's an amazing thing you can do and Canadian Blood Service does a fantastic job of making it fun. I think this is a great thing a parent can do as an example to their kids, it's free and you get cookies!
Booking Your Appointment
First, visit blood.ca to book an appointment. They will give you all the info you need for your visit.
Checking In
When you get to the clinic they will check you in and book your next appointment. Then you will meet with a nurse to do a pre-screen interview or collect your questionnaire details. The nurse checks your blood pressure and collects a blood sample at this time, it's a little pin prick on your middle finger and takes a second.
Collecting the Blood
After your pre-screen, you are taken to the collection area, an area with reclining chairs and small nurses stations. The clinic I was at had an open area where all of the donors sat together, and frankly, it was kind of a party. Each person has at least one nurse with them. The nurse chats with you and preps your needle, for me she offered to have me
either watch or look away but gave me a warning before she did it. I did tell her that I am a bit afraid of needles (since I gave birth to my second and it took four attempts to get an IV in) she assured me she would get it in one try and it truly was not a big deal. Does it hurt? A little, it's the same needle as when you go for a blood test but it's really only a split second of pain.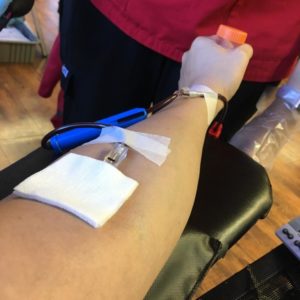 Once the needle is in the nurse connects your needle to a tube and bag on a machine that tilts from side to side. The collection typically takes about 10-20 minutes and is completely painless. My 4-year- old son watched with wonder and as I explained what a cool thing it is to give blood because it helps people who are sick or have big ouchies, he asked when it would be his turn. When we told him he would have to
wait 13 years his face fell and he almost started to cry – how great is that? Once complete the nurse quickly removes the needle and you must sit for 5 minutes to ensure you don't bleed too much.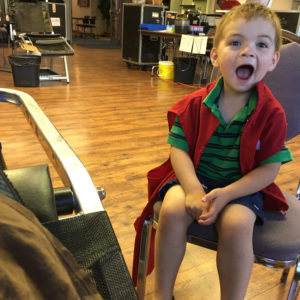 Cookies & Juice
After your needle is removed you must stay at the clinic for about 15 minutes after your donation to ensure that you are ok, you get cookies and juice and great conversations with clinic staff and co-donors. We met a friend who had just given blood for her 40 th time, and she said that she always did it because her father had a rare blood type and had always done it and she just felt it was normal. You can also get super cool droplet shaped stickers that say things like "Be nice to me, I gave
blood today" or "I'm new here".
Tips:
– drink tons of water in the 24 hours before you donate, this will help your donation run smoothly and go faster – fill up on protein and red meat if possible prior to your appointment – not sure if science supports this but I have found it helpful.
– Book your next appointment at the current appointment, so that you give blood again as quickly as possible Blood Donation Facts (courtesy of Canadian Blood Services website blood.ca)
– About 450 ml or 1 pint of blood is taken in each donation
– Leukemia patients require at least 8 donors per week
– A Car Crash victim may require up to 10 transfusions – or 50 donors
– The average person has about 25 trillion red blood cells
– Type O negative donors are considered universal donors and in the highest demand, Type O blood is typically used in emergency situations when there is no time to test a patient's blood type.
Check out more cool blood facts here: including a live chart showing Canada's blood bank inventory levels.
Hi! I'm Kat, the mom of a wild, beautiful, truck and adventure-loving little four-year old boy named Mac and a fair, flexible, sweet pea named Mia-Rose who is almost one. I live in the beautiful hamlet of Dead Man's Flats in the Rocky Mountains about 5 minutes from Canmore. I recently launched an online new & resale baby boutique called Tiny Campfire. Originally from BC, I have lived in the Bow Valley for the past seven eventful years: I fell in love, moved in together, had a baby, bought a home, bought a second home, had a second baby and started a business and I have loved (almost) every second of it.