Are you ready to get your green on? There are lots of events this weekend to celebrate the saint that banished snakes out of Ireland and we're here for it.
Here's what's happening around Alberta (warning…suggestions will include places for you to have an adult bevvie).
Banff
St. James Gate – One of my all time favourite places to go when in Banff for a pint of the good stuff. St. James Gate is  a natural place to go on March 17th on account it's an actual Irish pub. There's beer specials. Kids are usually allowed for lunch, but best to check ahead to make sure you can have a sneaky one while they eat fries.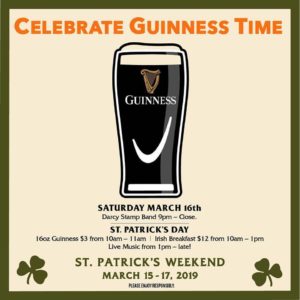 Calgary
Heritage Park
Shamrocks & Shenanigans happening on March 16 at Heritage Park means enjoying culinary experience celebrating the best of the Ireland while enjoying local band, Cabot's Crossing. Price is $69.95 and tickets can be purchased here.
Jack Singer Hall
Legendary celtic singer Heather Rankin will be performing at the Jack Singer Hall March 17 at 3pm. Rankin will be accompanied by the Casey O'Laughlin Academy of Irish Dance will be performing. Tickets range from $30-90 and can be found here
Irish Cultural Society
Casey O'Laughlin Academy of Irish Dance along with the Bow Valley Fiddlers, Hazel Grey & the Hubcups, Possak School of Irish Dancing will be performing at the Irish Cultural Society March 17th. This is a family-friendly event! Stew, snacks, and Guinness will be available. Admission is $5 for members and $10 for non-members.
Edmonton
Winspear Centre
Playing some of the classic Irish songs on March 15 & 16th at the Winspear with performances by Knock School of Irish Dance. Prices start at $15. Children under 3 are not permitted. For tickets click  here.