Last weekend Kim, Deanne, and I visited Calgary for the weekend.  When we were planning things to do Kim saw that the new Thundrdome Amusements would be open and that they had a Rage Room. Need I say more? A room where you can break stuff in to get all of your rage out seemed like a perfect activity for 3 busy and sometimes stressed out moms on a weekend getaway.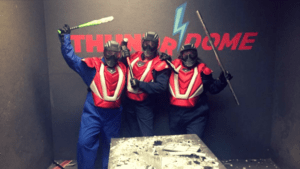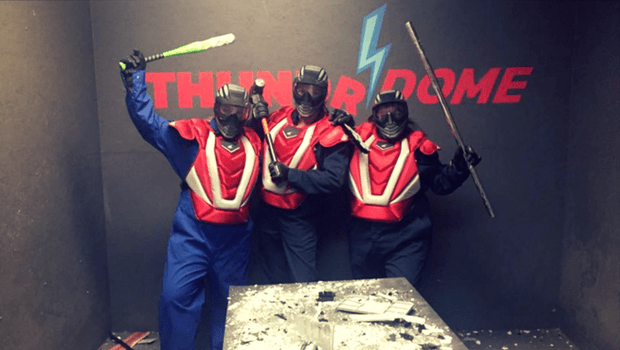 When we arrived we signed our waivers, suited up in coveralls, protective chest gear, and helmets to keep safe in the room for the 45-minute rage out.  We were provided with beer bottles, wine bottles, plates, vases, a wooden chair, and a printer to smash all while our favourite jams were playing! And while you think this would take way less than 45 minutes it was actually the perfect amount of time.
To be able to go into the Rage Room you have to be at least 18yrs old, and cannot be under the influence other than a few basic safety rules apply (like don't hurt other people in the room with you, or wreck the tables/floors/walls) you're good to go.
*Bring a memory stick with you, so you can get a video of your Rage Room experience! 
Rage Room pricing
Prices for the Rage Room at Thundrdome Amusements start at $19.99/per person and can fit up to 4 people at once. Prices for groups range from $70 (2 people) – $100 (up to 4 people). There are options to add other items on and you can even bring your own box of items for $10! (Next time I'm bringing my collection of no longer working cell phones that stopped working at the worst times ever!!)
If you book your Rage Room visit by September 30th you also receive 20% off of your booking so if you're planning
Other fun at Thundrdome Amusements
Thundrdome Amusements is also home to other fun activities for the whole family and include:
Combat Archery – Similar to Paint Ball or Laser Tag this game is great for kids 7+ – adults and can be adapted towards age groups participating. The arrows are foam tips, so it's fun without the pain. The cost for this is $19.99-$24.00
Turf Wars – Choose from foam swords, hammers axes and more or grab one of the 200 Nerf guns available and have fun!  This is perfect for kids 5+ and the cost is $14.99-$19.99
Archery Range – Using the foam tip arrows practice your archery skills, learn new skills, and have fun for $9.99/session. Anyone over the age of 6yrs can participate.You can find Thundrdome Amusements at 7005 6 St SE in Calgary!
We absolutely loved our experience at Thundrdome Amusements and can't wait to visit again when we make our way back to Calgary!  You can find Thundrdome Amusements at 7005 6 St SE in Calgary, Alberta visit them online at www.thundrdome.com
Are you looking for ways to promote your brand? Check out our Work with us page for some options and to see who we've worked with recently.
While we were provided this experience for free, all opinions are our own.