By Kat Wright
Canmore is a beautiful town tucked in the Rockies about an hour from Calgary. I have lived here for 6 years and love how family-friendly it is, with visitors coming all summer I often play tour guide so thought I would compile my must-do list for the Alberta Mamas out there who want a fun day trip.
WHAT TO BRING
Layers – as in most of Alberta, the weather changes quickly. Bring rain shell jackets, long and short pants and shirts and a fleece.
Bikes – there are trails for all levels all over town and a kid-friendly bike park.
Good walking or hiking shoes – the town is a great place to explore on foot and there are tons of outdoor activities and amenities to check out.
THINGS TO DO
HIKE
Grassi Lakes is a fantastic little hike, especially for those intimidated by hiking. There's a 'More Difficult' path too for more seasoned hikers. The "Easy" path is a gravel fire road, my 4-year old loves it and my 2-year old is happy in a hiking backpack. It takes about 40 minutes to reach the top where you'll find two small clear, blue lakes surrounded by popular climbing areas that are also home to a family of owls.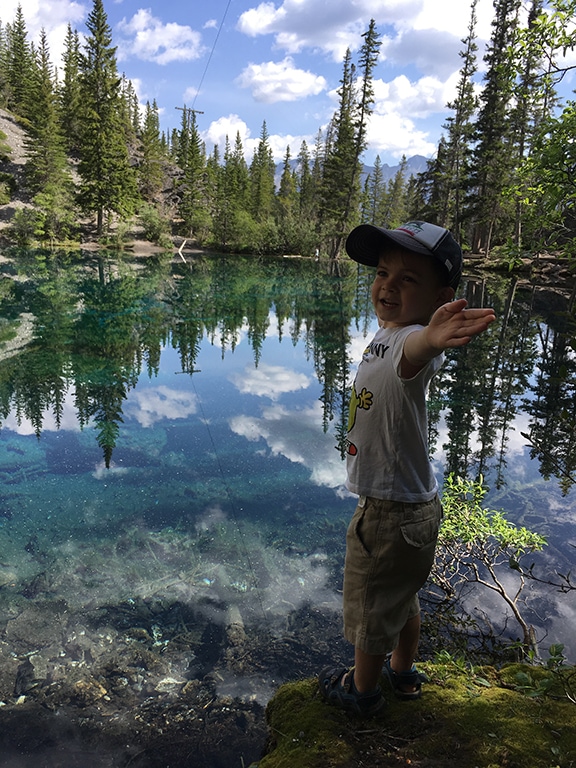 BIKE
The Nordic Centre offers mountain biking in summer, with over 100km of trails you will never be bored there. Bike rentals are available and there are trails for all levels of riders.
Legacy Trail – an easy paved 20km trail that runs along Highway 1 and connects Canmore to Banff. A beautiful way to spend your time in the Rockies, give yourself about 2 hours return + any time you may want to spend in Banff.
Benchlands Trail Bike Skills Park – located at the foot of Silvertip this great little bike offers 2 "pump" style tracks that give riders the chance to work on their handling skills moving over dirt features. The park also offers smaller jumps that the little ones love to ride.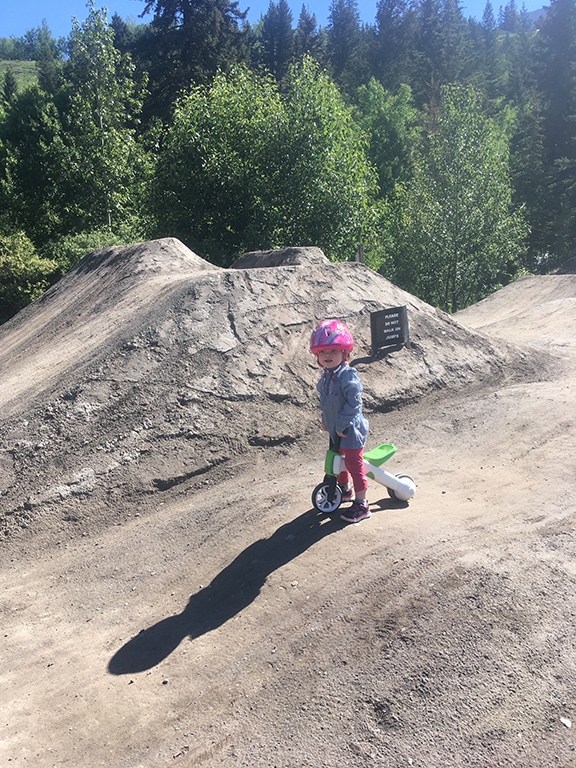 WALK 
Downtown Canmore is one of those towns that has been carefully zoned by the municipality. The only chain store on Main Street is Subway, everything else is small, independent and mostly locally-owned. There are several gift shops offering beautiful, hand-made in Alberta art and crafts as well incredible restaurants. On Thursday one street in town comes to life as the Farmer's Market, bringing even more incredible local goods and eats to our little town.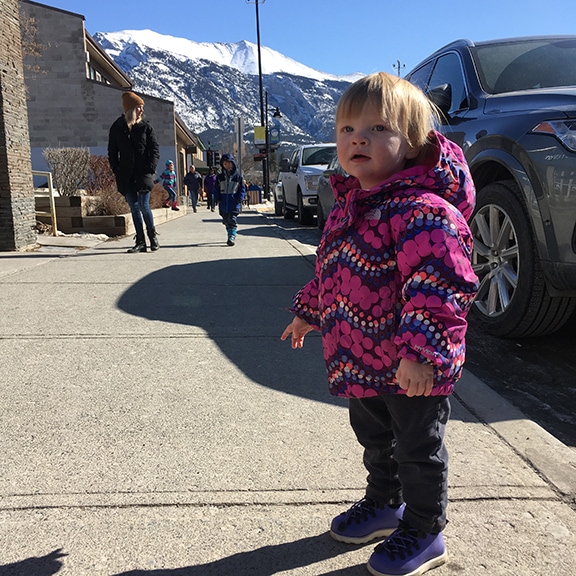 Old Engine Bridge Trail – a gravel trail that runs along the river in a loop across an old engine bridge, past the hydroelectric plant and back over another bridge into town. Bikes and strollers handle the trail with ease + there are so many incredible and varied views along the path. It's common to see elk in the river at some point along the way.
PLAY
Elevation Place is Canmore's premiere recreation facility, opened in 2013 it includes a swimming pool with water slide, climbing walls, child care, library, cafe and community art gallery. Tons to see and the perfect place to wait out a rain storm.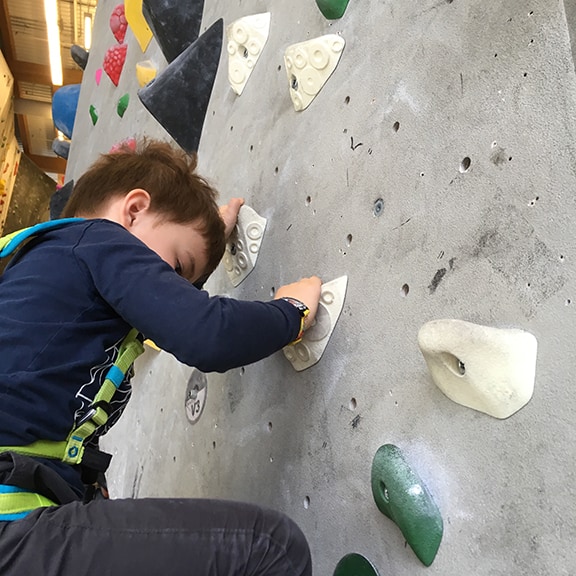 Quarry Lake – in the middle of an open wilderness meadow, Quarry Lake offers a beach area, picnic tables and a lovely path around the lake. Take the kids for a swim and get a real taste of what mountain life is all about.
Eagle Terrace Park – so this is a real locals gem, a beautiful park with sweeping views. The park includes a field – perfect for bigger kids to play soccer, football or bike and two playgrounds, one for toddlers and one for school-aged kids. Bring your picnic blanket 🙂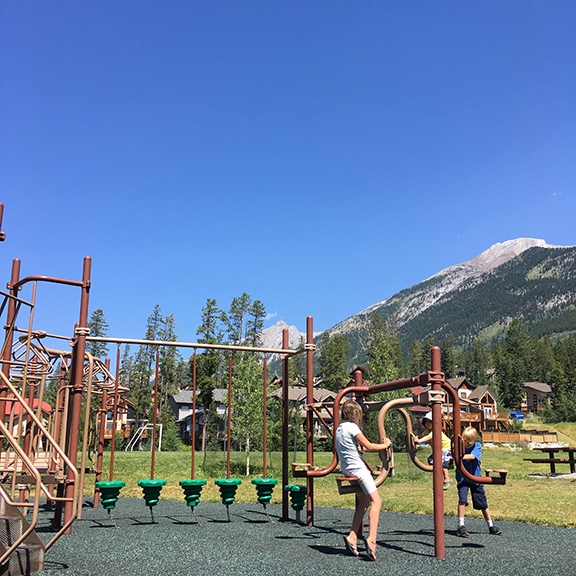 EAT
There are WAY too many fantastic restaurants to list, so here are a few of my favourite family-friendly spots to eat:
PD3 by Blake
A super hip little food truck on Main St. based out of an old double-decker bus during summer months. PD3 offers a large patio with picnic and patio tables, it's gated so the littles can wander a bit without getting into trouble. There is a kids menu offering basic kids fare and they also serve tacos, but the FRIES! Kids love them and you will too. This licensed restaurant also offers a little something for mom and dad. Finish your meal with a Scratch Rare Ice Cream – which is available at PD3 as well – that leads us to our next favourite….
Scratch Rare Ice Cream – an artisanal ice-cream vendor at the farmers market, offers high-quality, locally-made ice creams – including vegan flavours, if you happen to be in town on market day, you do not want to miss this, you can also get this Scratch Rare Ice Cream at PD3 by Blake.
Communitea – A local mommy hang-out, a gorgeous space one block off Main Street, Communitea has the best super healthy salads and vast variety of house-blended teas and yummy baked goods. There is a play area for little kids, which is probably why you will almost always see at least one mommy group with a crew of little ones hanging out here.
Summit Cafe – Summit is definitely one of the best-kept secrets for locals (don't hate me for this Canmore folks). A small cafe in the Cougar Creek neighbourhood with a great outdoor patio area and play area for kids. Offering baked goods, strong fresh coffee, tea and hefty breakfasts and sandwiches. This cozy little cafe is where you'll really feel like a local.
Other than the restaurants most of these activities are very inexpensive or free. Canmore is a friendly town, filled with beautiful scenery, eclectic shopping and some of the best outdoor amenities in the Province. Definitely worth a visit this summer.
More road trip ideas
Why not check out these other road trips:
Hi! I'm Kat, the mom of a wild, beautiful, truck and adventure-loving little four-year old boy named Mac and a fair, flexible, sweet pea named Mia-Rose who is almost one. I live in the beautiful hamlet of Dead Man's Flats in the Rocky Mountains about 5 minutes from Canmore. I recently launched an online new & resale baby boutique called Tiny Campfire. Originally from BC, I have lived in the Bow Valley for the past seven eventful years: I fell in love, moved in together, had a baby, bought a home, bought a second home, had a second baby and started a business and I have loved (almost) every second of it.