It's almost summer time and that means cool refreshing drinks, which include lemonade. With so much different flavor options you can make a new Lemonade every week! Even better you can make all of these work great as a boozy option too.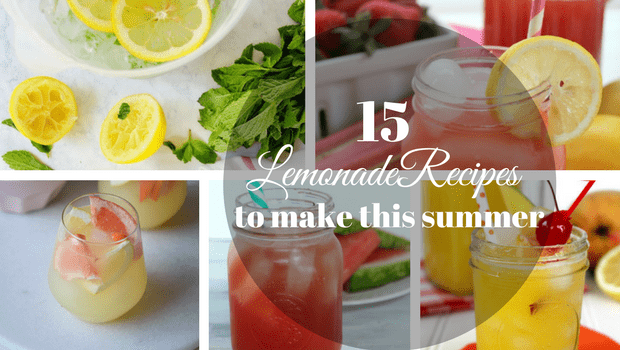 Make it fruity
Make it tart with this Grapefruit Lemonade
Everyone loves a good Pink Lemonade recipe
A perfect pair! Make this Watermelon Lemonade quench your thirst.
This Frozen Watermelon Lemonade is perfect on those scorching hot days!
You'll fall in love with this delicious Mango Lemonade
A little bit of lemon and orange is what you'll find in this Fruity Lemonade
Add in some berries
We're sure this will be the Best Strawberry Lemonade Ever
It works well in pie so of course, you'll love this Strawberry Rhubarb Lemonade too
A little bit of berry a little bit of spice is in order for this Strawberry Basil Lemonade
Put a twist on it with a Blackberry Lemonade or a Blueberry Lemonade
A little bit of spice
Enjoy a refreshing Mint-Infused Lemonade
Let this Chamomile Lemonade Ice Tea cool you off while you relax
Copycat Lemonade recipes that you'll love
Quench your thirst with this copy Red Robin Freckled Lemonade recipe
This Copycat Starbucks Passion Tea Lemonade is sure to satisfy your cravings (and save you a little bit of $$ too)
You haven't had a good lemonade until you've tried this Copycat Chick-fil-A Lemonade
Do you have a favorite lemonade recipe? Join the conversation on Instagram and Facebook