I am not a participator.
I hate bridal/baby shower games where you have to make hats out of wrapping paper, guess that baby food, or even worse is when you have to get dressed up as a group and go out. I don't like the extra attention on me and honestly I just don't want to do the work that goes into all of that stuff. Then Halloween comes and I start getting asked what I am going to be dressing up as and it takes every ounce of me not to roll my eyes and walk away. I hate it.
I'm envious of the women (and I will stereotype here and say women because generally the men are just going along with whatever is planned for them in these situations.) that go all out for holidays like Halloween. I love scrolling through my Instagram feed seeing all the cute costumes people come up with. It is just not for me. I can't put the time and effort into something like a costume.
Here's a photo of me dressing up for the kids school dance this weekend. I'm dressed up as a work from home mom. Leggings, comfy sweater and hair half done to make it look like I put effort into my look. I was the only one not dressed up and I was cool with that.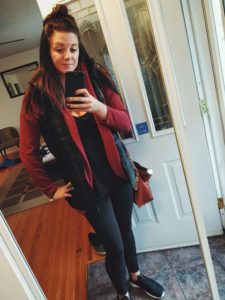 If getting dressed up is your thing that's awesome! I will ooh and ahhh all over it and be super impressed that you took the time to get done up. Good for you! The dances, school parties, and trick-or-treating are a lot of fun and I love doing it all with the kids. Just don't ask me to dress-up.