The Cerebral Palsy Association in Alberta (CPAA) is ready to host their 13th Annual Life Without Limits Challenge event this September where people of all ages and abilities come together to celebrate their accomplishments, raise funds, and most of all … have fun!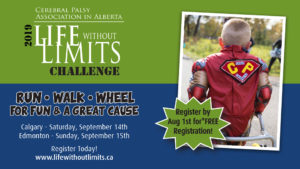 This yearly event is not your typical walk-a-thon, as the CPAA puts a big focus on making the event fully inclusive and open to the community. 
"Many of the individuals we work with have some form of a disability and live right in your community. This event is giving them a day to have fun with their friends and family. It's something they look forward to each year. The more participants we have out, the more fun they have." Says Joanne Dorn of the CPAA.