If you're coming to Edmonton, or live in Edmonton and haven't been yet, you need to make a visit to the Royal Alberta Museum. For many, the old location and museum was a fixture of their childhood … seeing the dioramas and visiting the many rocks and precious gems. If you loved those old features, good news! They're in the new museum too!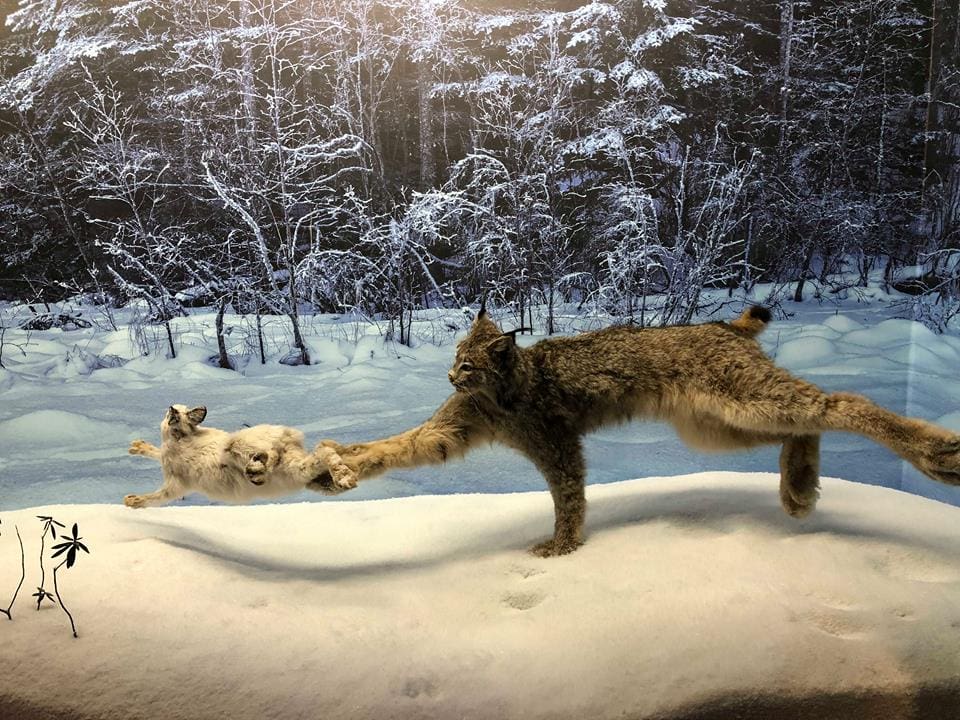 What you need to know about the new R.A.M.
Location: It's in a new location on 103A Street and 98 street. Beware… there is NO parking at the museum which isn't ideal, especially in the winter, and you've got a stroller. There is parking available at the front for "drop off" purposes and there are parking lots in the surrounding areas. It's not all bad (especially in the spring/summer) but be prepared. If you're taking the transit, there is information on the RAM website on how to get there (ie: call 311)
Hours: DAILY 10 am – 5 pm
THU 10 am – 8 pm
In the summer there are extended hours:
May 18 — September 2, 2019
DAILY 10 am – 6 pm
THU, FRI 10 am – 8 pm
The museum is closed on the last Monday of every month, with the exception of the week of spring break (March or April) and December. The museum is always closed on December 24 and 25.
Upcoming closed dates (Spring 2019): April 29, May 27, June 24
Museum Shop will be closed Monday, April 1, 2019
Fees: If you're planning on going to the museum more than once in a year, we HIGHLY recommend a Family Mammoth Pass. This pass is $70 and will pay for itself after 2 trips (one admission for a family is $48). Family Mammoth Pass will also get you 10% off at the gift shop (which is awesome) and the restaurant.
Accessibility: One great feature of the new museum is the accessibility for all Albertans to be able to enjoy the museum. There are Sensory Kits available for visitors with sensory processing differences. There are 4 parking spots at the west side of the building for those with disabilities. Wheelchairs and strollers are available and accessible washrooms, including one with a transfer lift (sling not provided) and adult change table. Information about accessibility can be found at the admissions desk.
The Galleries
The museum is set up into 4 main galleries with two that are for features (the Viking Series) and what they call "changing" meaning they will change them up throughout the year. The four main galleries are:
Natural History Hall
Human History Hall
Bug Gallery
Children's Gallery.
Here's the deal the big attraction for kids at the museum is the Bug Gallery. It is fascinating and gross, super creepy, but amazing and you NEED to bring your kids in there.  But, before you do, take them through the Human History Hall first. This personally is my favourite hall and the Indigenous history presented in the hall was fantastic. The amount of history in our province… is spectacular. I spent a lot of time googling the Napi figures history when I got home.  There are some great interactive displays for the kids and in the roundhouse (again, my favourite) are traditional Indigenous clothing and a video that alternates from traditional music to nature sounds.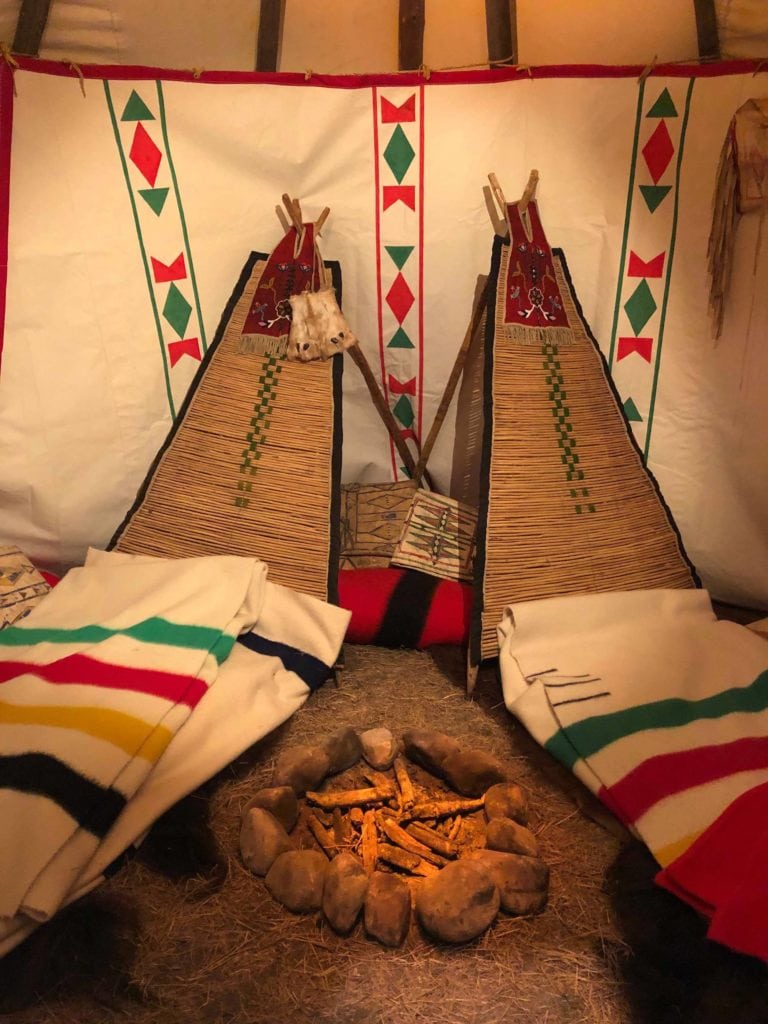 (Turn your volume up for this…)
Once you've walked through this exhibit, now it's time for some fun with either the Children Gallery or the Bug Gallery which are both on the main floor.
The Bug Gallery is disgusting, and your children are going to LOVE IT. I mean disgusting in the most loving way. There's tarantulas, scorpions, stick insects, centipedes, ants, you name it, it's there. The boxes are clear glass so everyone gets a good look at what your nightmares are going to look like tonight.
Your next choice is the Children's Gallery which is WONDERFUL. We didn't spend too much time in there as my kiddos are bigger, but if you have little kids they'll have tonnes to do. The picture below doesn't quite do it justice with how big it actually is inside. The toddler/preschooler section is right at the back and lots of space for your little one to burn off some steam.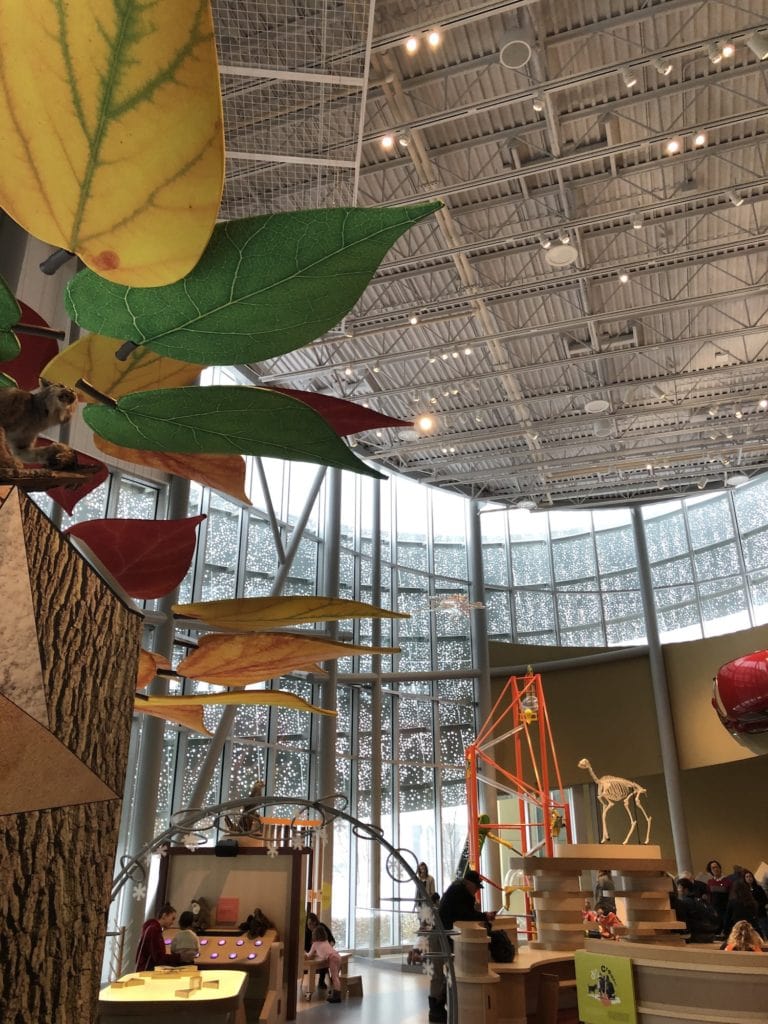 Lastly is the Nature History Hall. We spent a LOT of time up here looking at the dioramas (look for the "Judging Magpie" next to the falling bison). There were lots of interactive games up by the poor bison that's having a bad day, and I had to pull my kids away from them so we could get on with the visit.
You'll visit two more sections before you make your way out, the precious gems/rock collection and the dinosaur bones. If your kid is getting exhausted, and assuming they don't have a deep love of rocks (I know that a LOT of kids love rocks) head to the dinosaurs and see the Mammoth… and also the ground sloth who looks like it's trying to give you a hug.
Did you know this cutie used to live right here in Alberta? We miss you too buddy.
On your way out downstairs is the restaurant. They have some baked goods coffee/tea pop, soup, and fries. No ice cream… fingers crossed that's something that would be added in the summer. If you have a yearly pass you will get 10% off here.
That's it! Congrats parents!!! You made it. We know it's not easy maneuvering with kidlets in tow, but there are lots to see at this museum and as the kids grow lots of new things that will spark their interest.
Header image courtesy of the Royal Alberta Museum