One of our favourite places to go during the summer is the Whitecourt River Slides. This is the perfect summer destination that your whole family will love, and best of all it's free.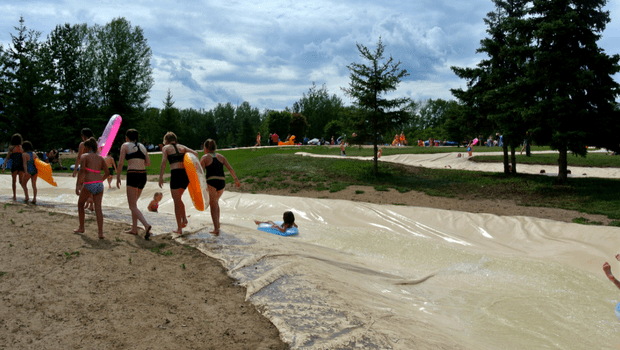 What you need to know before going to the Whitecourt River Slides
Bring your own tubes – While there are places in Whitecourt to buy some, there is no guarantee that you'll get what you need so it's best to bring your own. Don't forget the pump too!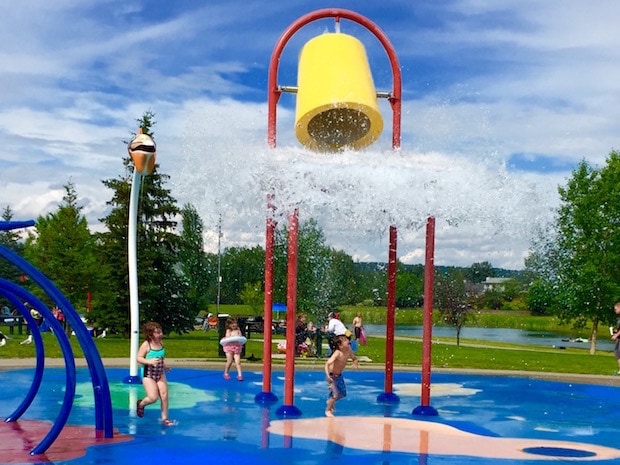 Even more fun – The Whitecourt River Slides are located within Rotary Park which also has a park which is fun for all ages as well as a spray park.
Set up an umbrella – There is plenty of green space to set up your chairs and picnic but there aren't many places that offer shade. Bring an umbrella or even a tent, you'll be glad you did especially on those hot summer days.
Pack a picnic – There are many places in Whitecourt for you to grab something to eat and bring it to have a picnic, pack your own, or grab something from the concession located by the River Slides.
Get there early – Open daily from 10am-9pm (weather permitting – must be 16oC) it fills up fast. To get a spot close to the River Slides you're going to want to be there early.
There are 2 slides – Which one works best for you? The left one is shorter and goes faster and the right one has more turns and bumps making it a slower slide. Each end at the bottom in the shallow creek!
Wear water shoes – When getting into the sides can get quite slippery so having something with a grip helps.
Stay overnight – There are a few hotels in Whitecourt and Carson Pegasus Provincial Park is only a 30-minute drive. Make a weekend of it and hike Hard Luck Canyon, explore other tubing areas, and more!
You can find the Whitecourt River Slides in the Rotary Park at the end of 51 Street (north of the Whitecourt Fire Hall) in downtown Whitecourt.  Will you be checking it out this summer?
Other posts you may be interested in:
Be sure to check out some of our other posts!
Join the conversation on Facebook, Instagram, and Twitter.