Last week we had the absolute best time having a friends turkey dinner. The idea of roasting a turkey mid-week seemed a bit bonkers, but it was great because we all went home with a tonne of leftovers! YEAY! The best part of having a turkey is the leftovers and incorporating them into your everyday meals is surprisingly easy. With there being 5 of us at Alberta Mama's we thought it would be a fun idea to each take our leftovers and use them to create a "typical leftover meal," something that would typically get made in our homes. It's actually quite telling of each family's personality.
Deanne
Turkey Leftover Idea: Bone Broth. 
Using up the leftover turkey meat is a no-brainer, but the bones are useful too! Deanne took the bones from our turkey and turned them into a stock (or bone broth) that she can use for soups, gravy or for drinking straight up.
For the turkey bone broth you will need:
Your leftover turkey bones
Carrots, onions, celery or any other root vegetable you have on hand
Garlic
Herbs (for this one we used leftover rosemary and thyme from our dinner the night before)
Spices to taste (we used cumin, star anise, salt, and pepper but use what you have in the pantry)
For the instructions to make bone broth, check out the post Deanne wrote here: Making Bone Broth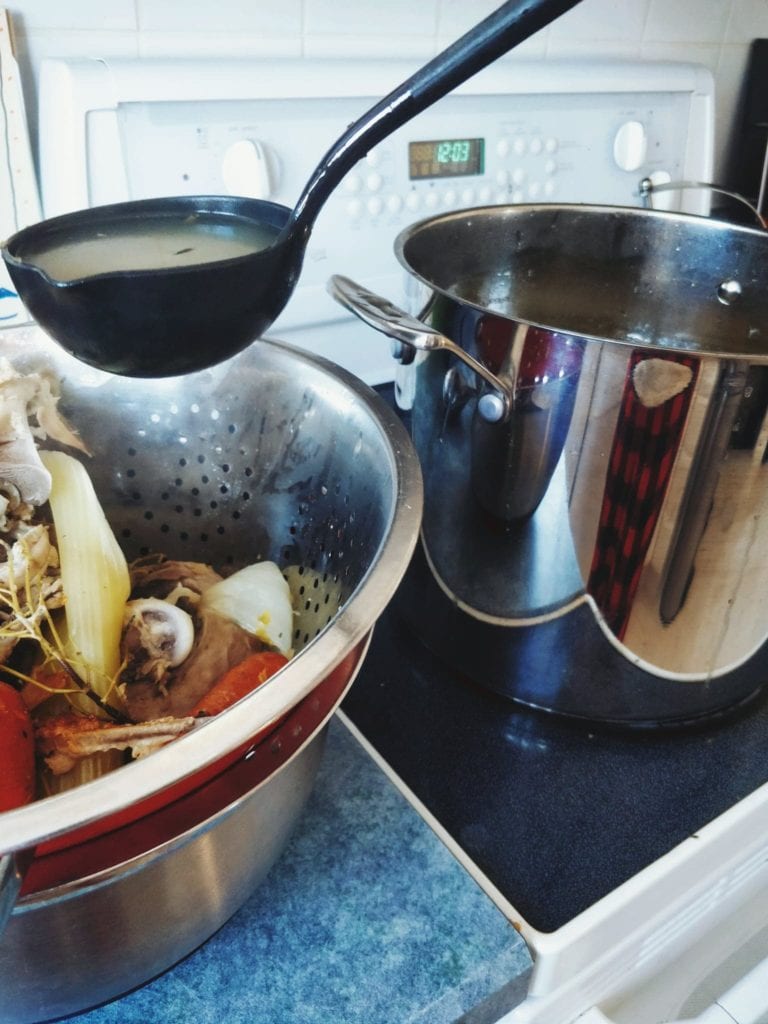 Christine R.
Turkey Leftover Idea: Turkey, Egg & Squash Bites
These little bites are perfect for a quick healthy snack or for popping in your lunch bag using your leftover turkey. The best part of this recipe is that it might not use up all your turkey, so you not only have a quick and easy healthy snack but also, more turkey for your other leftover meals.
Ingredients
1 medium spaghetti squash
1/4 cup all-purpose flour
1/4 cup egg whites
salt & pepper
Other spices to taste – I used onion powder for example, but you can use real onions too!
1/2 cup shredded cheese – your choice what kind
1-1 1/2 cups of chopped turkey
2 cups egg whites
Instructions on making this recipe click here ➢ Turkey, Egg & Squash Bites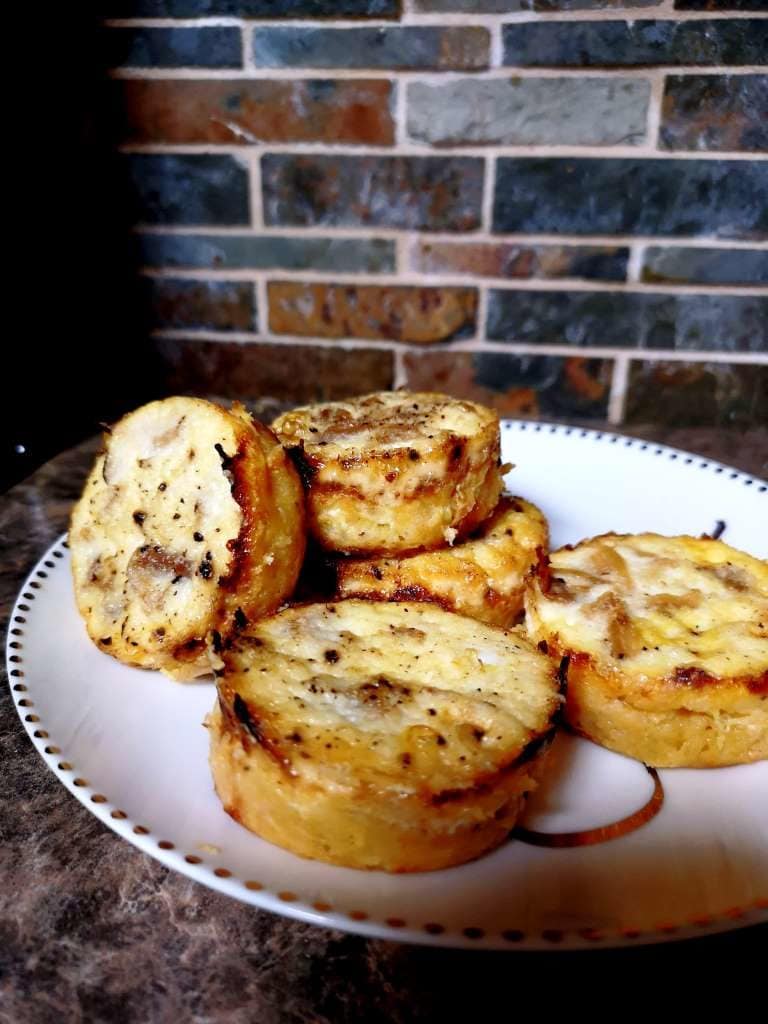 Kimberly
Turkey Leftover Idea: Festive Poutine
Classic Canadian comfort food meets turkey leftovers.
Ingredients
Fries- homemade if you have time, but I just used a frozen oven baked variety from M&M Meats!
Bacon- cooked and crumbled
Cheese Curds
Green Onions- washed and sliced
Leftover Cranberry Sauce
Leftover Gravy
Leftover Turkey- cut into smaller pieces
For instructions on how Kimberly made her turkey poutine, check it out here ➢ Turkey Poutine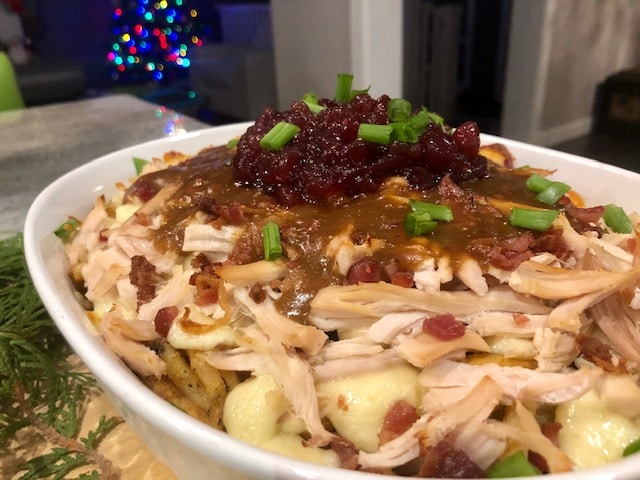 Nicola
Turkey Leftover Idea: Turkey Curry
This isn't a typical "curry" per se, and there are a million curry recipes out there that are authentic and 1,000 times better, but this is my families quick and dirty yet delicious recipe for a
Ingredients
Leftover turkey
1 can of tomato sauce
1 tablespoon (or more to taste) of Pataks Curry paste (I used the madras).
1/2 cup of cream
1/2 cup of chicken broth
Instructions: 
Dump the sauce and turkey into a pot and heat up. Mix in one tablespoon of the curry paste and stir. Add in the stock to thin the sauce and the cream to add some extra flavour. Serve over rice or fries.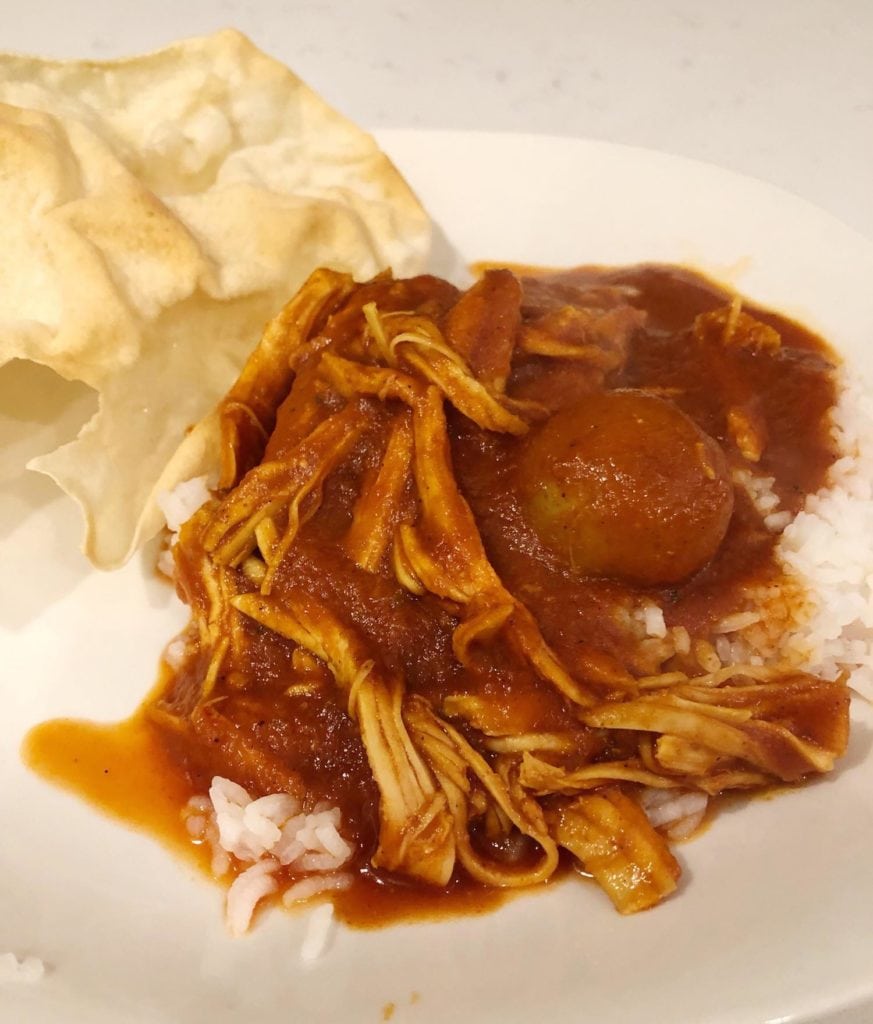 Christine B.
Turkey Leftover Idea: Turkey Cranberry Swiss Slides on a Ciabatta Bun
This leftover recipe is sure to be one of your favorites! All you need are 4 basic ingredients (2 of which you most likely still have) and an oven! Turkey leftover win!
Ingredients
Turkey
Cranberry Sauce
Swiss Cheese
Ciabatta Bun
Instructions
Find the easy and delicious recipe here ➢ Turkey Cranberry Swiss Slider
It's easy to substitute turkey into your everyday recipes. Change up your Taco Tuesday meat with turkey, or your chicken pot pie is now a turkey pot pie. Turkey is great too because it's a lean meat. To learn more about Turkey as a healthy protein, check out the Alberta Turkey website for turkey nutritional information.
Looking for additional tips, recipes, or even how to cook a turkey? Visit Alberta Turkey for all your cooking inspiration.  Alberta Turkey makes your holidays easy with all the recipe suggestions and turkey prep tips you need.
Alberta Turkey wants to help make your holiday season merry and bright with an E-Giftcard from Amazon! To enter below:
Contest Rules
Available for Albertan residents only and must be 18 to enter.
No purchase necessary
Purchase does not enhance the chance of winning
Odds of winning depends on the number of contest entrants
Entry procedures and beginning/ending dates, including time and time zone
Facebook Disclaimer:  This promotion is in no way sponsored, endorsed or administered by, or associated with Facebook. By entering entrants confirm they are 18+ years of age, release Facebook of responsibility and agree to Facebook's terms of use. Open to Alberta residents only. Winner will be announced on this post. No cash value. Giveaway closes midnight December 16th MST.
We've created this delicious blog post in partnership with Alberta Turkey and Alberta Mamas. All recipes, opinions and everything else is our own!