Chickakoo Lake Day Trip
This past weekend I took the family about 30 minutes west of Edmonton for a day hike to Chickakoo Lake. (Okay so maybe it was more of a walk). We went for a short trail and a little play before we had to make it back for my husband to work on some stuff.
But before I get into the details of this place and our trip I want to take you down my memory lane a little bit. When I was about 6 my parents divorced. Since my father was a long distance truck driver we got to see him about every second weekend. I feel so lucky though that he sure made those weekends count and we created memories. One of my fond memories is him taking us to Chickakoo Lake. We went summers for bike rides and winters for cross country skiing.
Last week I decided our family needed to get out of the house and into some nature, away from work and screens and other distractions.  I called up my Dad too and as we were walking this weekend we shared stories with my husband and girls from our trips when I was a kid. *Insert big AWWWWWWWW's here*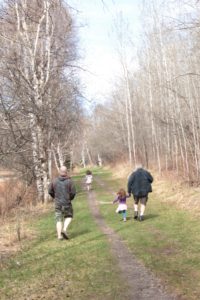 Since this destination is a short drive from Highway 16 (1228 Township Road 535) it makes it a great stopping point for anyone travelling through Edmonton to head onto somewhere else that needs to give the kids a bit of run around time.
There are three trail ratings of Novice, Intermediate and  Advanced with a few different options for both. You can branch off from one trail to another to make it shorter/longer or easier/harder. Luckily they are pretty well marked so you don't get lost!
Off the dock or from a side shore you can do some fishing for some trout as well. It's sport fishing of catch and release only though, so no keeping the fish!
Additionally there are many picnic benches (even a large covered section for big family gatherings) and a small park for the kids to play, making this a great day adventure as well. So pack a lunch, the tackle box and some water and spend the day outside!
Love,