By Amanda
On a recent family trip to visit Drumheller, we made the best decision and took the slight detour off of Hwy 56 to visit the Rowley, Alberta…the ghost town.  
Located between the towns of Big Valley and Munson, about 5 Km down a gravel road, the town has a current population of approx. 10 people and is considered abandoned.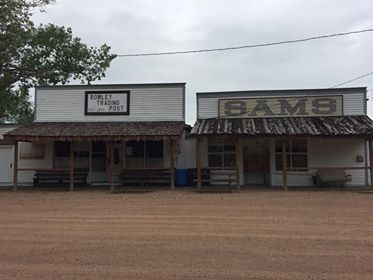 The Setting
The setting for several movies (including Bye,Bye blues, Pelican Brief, Legends of the Fall),  the bulk of the buildings can be found on the main street. Stop in at the town office to take advantage of the free, though tips are greatly appreciated, tours that are offered and get you access into all the buildings. Tours run from 10-6 every day in July and August. Our guide Brayden was fantastic, he was very knowledgeable and offered lots of interesting facts as we made our way through town, and super patient with the kids who asked about a million questions as kids tend to do.
The kids loved exploring the train station (operational from 1925-1965) and old garage with vintage cars. Another kids favorite was the old school house. A really great feature in the old school is that every desk is seated a plush doll with a nameplate of a person who actually attended the school when it was operational.
There are lots of antiquities to be found as you go through the buildings including a bible from 1871 in the church and a large printing press that was used between 1900-1920, that is housed in its own separate building.
The Playground
Another great bonus is the large covered picnic area and playground located in the middle of town. We were also pleasantly surprised to learn the town offers free no hook up camping on site if you're planning on staying in the area. While still being fairly central to all the main attractions in the area it's a great alternative to paying for camping as long as you don't require all the frills of a power/water site. If you happen to be there on the last Saturday of the month be sure to check out pizza night held in the still functioning salon.
A must stop attraction whether you're traveling with or without kids. Would definitely recommend going if you are anywhere in the area. We would go back in a heartbeat.
Other posts you may be interested in:
Be sure to check out some of our other posts!
Born and raised in Edmonton, Amanda is a single mom to a fantastic 8-year-old daughter and works full time in emergency services. She has great fondness for all things old and abandoned and can be found camera in hand whenever she has a spare minute.